Rotation Woes? Try this! 3 Nights of Globally Inspired Cuisine
Rotation need some help?
3 Nights of Globally Inspired Cuisine (with Pork)
If you are in a rotation rut or kitchen slump or you have just been down right avoiding the kitchen and feeding yourself and family crap, have I got the solution for you! You owe it to yourself to give this a shot.
I developed these recipes as a way to creatively use up a huge pork shoulder (butt) that will provide you with 3 nights of unique globally inspired cuisine that the mouths at the table will NOT feel like they are eating leftover one bit!
Ready to be the weeknight warrior and meal hero? Great! Lets get started.
Update: Please read through for pork alternatives.
First things first. Do you own and instant pot? Yes, great! Don't you just love it? I hope these recipes will delight!
You don't! Then you are in for the most amazing kitchen must have hands down. You can buy one right here on my blog by clicking on the image below. This pot is worth its weight in gold and reduces the number of devices you have junking up your counters or taking up space in the garage. I love to cook but the instant pot has me absolutely mesmerized and spoiled in the kitchen. I have made everything from deserts (key lime cheesecake) to bone broth to these dishes I'm sharing with you today. Everything tastes better and after a bit of prep, set it and forget it!
For the record, I am not affiliated with Instant Pot. I am, however, an Amazon Partner. My promise to you is that I will never promote a product that I do not absolutely love. My goal is to make you a success in the kitchen, your kitchen life easier, and provide you with links to the products so you do not have to do the searching or reading endless reviews. Many of my recipes use this phenomenal device. I strongly encourage to stop thinking about it and pull the trigger now. You will not be disappointed. And hell, Amazon has an awesome return policy. Just do it! This pot will change your life at meal time and you can put all the rice cookers and crockpots on Craiglist or Face Book for a little extra cash in yo'pocket.
__________________
Sanity or Lack Thereof is a participant in the Amazon Services LLC Associates Program, an affiliate advertising program designed to provide a means for sites to earn advertising fees by advertising and linking to amazon.com.
___________________

For my full write-up on the amazingly fabulous instant pot, click here.
I have full recipes and write ups but this is the master page for this 4 day experience through pork. Use the links and follow the steps.
Buying the pork shoulder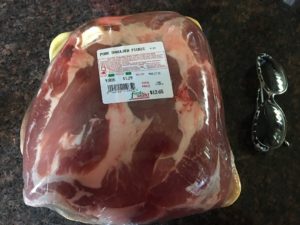 If you haven't visited your local global market, it is time to do just that. You can get more bang for your buck. Zoom in on the image to the left and tell me how fantastic that price is for pounds of pork. Yes, it is bone in and fat cap on. But once you cook it in your instant pot, you can remove the fat. The bone will make a nice broth should you choose to be adventurous. Note: Meat is always juicier cooked bone-in.
See my sunglasses? Showing yah scale. That's a huge pork. But buy as big as will fit in your instant pot or buy 2 if you have a huge crowd to feed and cook them separately.
Ready for the ride? Lets go!
Each recipe to make this series complete is listed below. I recommend you take a look at each first and then get your hiney shopping for the ingredients you are missing. If you have any questions as you read through the recipes, please DO NOT hesitate to contact me. I am happy to help or do some research for you to ensure dietary restrictions are met or provide alternative suggestions.
Instant Pot: Pork Shoulder & Marinade (Part One)
Instant Pot: SexMex Pork Carnitas (Part Two)
Instant Pot: Bulgogi & Rice Poke Bowls w/Asian Slaw (Part Three)
Instant Pot: Jalfrezi Pork Lettuce Wraps w/Asian Slaw (Part Four)
You cannot lose here. Make them in the recommended order or just make one or two using a smaller cut of pork.
Another secret of mine that I am going to share with you. If you DO NOT EAT PORK, no problemo!  Sub in any meat you want. It will still have fantastic flavor. I made tofu marinated in the Jalfrezi sauce and added it to a salad for my son and I to enjoy during a Mommy & Son afternoon. I cherish those fun moments!
Most of the time, we make cilantro lime quinoa instead of rice. The best quinoa, in my humble opinion, is the following brand sold on Amazon at a pretty fantastic prices for 4lbs:
My goal is to add more series so that you get the most out of your instant pot as well as buying large cuts of meat for multiple nights of cooking bliss.
I want to hear what you have to say. What are you challenges and/or successes? What would you like to see on this blog that would make your life a little easier or the kitchen more fun?
Drop me a comment. Thanks!