Ingredients
1.5

ground turkey

use 2lbs if you want leftover snacks

1 large

eggs

cage-free preferred but not necessary

3, 2 yellow & 1 zucchini

squash

or any combo

1 16oz can

fire-roasted tomatoes

sub any compliant can tomatoes

1 ~20oz jar

spaghetti sauce

more to liking

1 T

garam marsala

optional but adds so much flavor

1/2 T

red pepper flakes

less for less heat

1/2 c packed

basil leaves minced

sub thai basil or dry basil seasoning

1 c loosely packed and chopped

spinach

optional

3 t separated

peppercorn medley

or regular pepper

pinch or two of

himalayan sea salt

for both the sauce and the zoodles
Directions
Meatballs, Meatballs, Meatballs!
What I love about making my own meatballs is that I can add a wide array of culturally diverse ingredients to customize dinner. Meaning, if i want my meatballs to lean Italian then I lean towards the Italian seasonings, red pepper, etc. For these, I went with garam masala for a unique Indian flavor which, believe it or not, actually went well with the can of fire-roasted tomatoes I added to my Roa's sauce (BJs or Walmart) – both Whole 30 compliant.
If you do not have a spiralizer and want to eat healthier, then I cannot express to you enough how awesome, albeit messy, this little device is. Not too mention, if you are planning on doing a successful whole30 then RUN, DO NOT WALK, to secure your nearest spiralizer. It keeps things interesting and healthy. If you do not have one, I highly recommend the following two spiralizers:

10-Blade Spiralizer/Slicer


Spiralizer Vegetable
Slicer
The first one is good for your arms. The second one is good for lack of time and clean up. Both are great! Click on the link to order yours now and then come back here for zoodle fun with SOLTO. Thanks so much in advance if you order through my blog. Big hearts and kisses!
Back to the regularly scheduled broadcast…
Did I mention that these meatballs are so diverse.
They love a good PARTY and if you have a potluck coming up – EVENT BETTAH!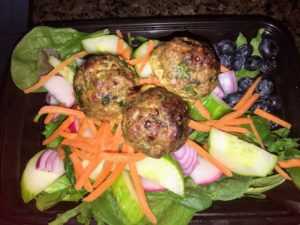 There is only 3 of us. So I intentionally made a lot more meatballs so  that I could warm them 
up this week to add to a salad for lunch or eat on the go, snack, etc.  In fact, I am eliminating any excuses that my evil brain can come up with and I am going to stick to my Whole30 this morning.  To prove it, I just had a wonderful salad with my little leftover heaven balls and covered it in my own Green Goddess dressing. These are not great pictures but hell, I wanted to share my leftovers with you.
You definitely need this "prep more ahead of time" items so that you do not feel like you have to cook morning noon, and night!
I cannot wait to hear from you. What changes you made to these meatballs. If you made more than enough, how did you repurpose leftovers.  If you have questions or want to know how to make this what you have on tap, email me. I would be happy to help you!
Do you social? Me too!
 Make this, take a photo, and on da GRAM – #SOLTOcrew AND don't forget to @sanityorlackthereof | Find more from SOLTO on Pinterest and join my crazy wack cookery community on Facebook. Glad you came to party!
Until we eat again…
Steps
Zoodle Time!

Preheat oven to 385F.
Use a spiralizer to zoodle the squash and zucchini. I recommend using the 6mm for thicker noodles that resist getting mushy a little better than smaller noodles. Regardless, the taste will still be awesome!
Set out on a row of paper towels, add salt to absorb moisture. After about 5-10 minutes, lay another row of paper towels over the zoodles and press down. You can come back to this step while making after you put on the sauce and you make the meatballs.

Saute baby!

Infuse with flavor! In pan over medium high heat, heat a T of olive oil or avocado oil. Once the oil is hot, add the diced onion. Saute until the onions are translucent. Then add the minced garlic and continue cooking for 2 minutes. Remove from heat.

Meatball mixture

Lay parchment paper or foil on large baking sheet. In a large bowl, mix thawed ground turkey, egg, spinach, sauteed onion and garlic, coconut aminos (or soy) red pepper flakes, garam marsala, and s&p. Mix with fork or hands,careful not to overwork the meat. Just incorporate all the ingredients. Take a medium size cookie scoop and form your meatballs. Set on sheet. If you are making this entire dish now, then place them in the oven and cook for 20 minutes. If not, place covered in refrigerator for 30 mins - to 2 hours for the flavors to develop (recommended).

When the time on your oven goes off, turn off the oven and hit Broil / High and set your timer for 3 more minutes. This will brown the tops and add a nice texture to your meatballs. WATCH the meatballs. Oven broilers vary. Once the begin to brown darker, take out and get ready to plate.