Ingredients
2 slices per

brioche bread

1 large slice per

tomatoes

sliced (1-2 per)

mushrooms

use your fave shroom

1 slice per

muenster cheese

1 slice per

havarti cheese

butter

enough to spread on bread

1 large family size can of

tomato soup

feeds 3-4 so you may need to double the recipe

1 cup stems and all

cilantro

1 large diced

green onion

soup topping

Sprinkle of

parmesan cheese

soup topping
Directions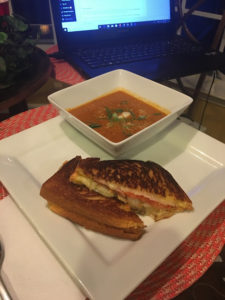 gRiLlEd ChEeSe & ToMaToE sOuP
Yes! As you can see in the image (right), I went right from eating this sensational and easy grilled cheese and soup to blogging about it. The laptop has its own setting. Ridiculously dedicated and in need of therapy from my therapy.
Are you ready for easy and yummy?? How about if I told you my 10-year old son made this from start to finish? Yup, you heard that right.  He came to me a few days ago and asked if he could make dinner Saturday night.
As a mom who loves to cook and food blogger, I was OVER THE MOON! Heck yea!
He decided to make an "elevated" grilled cheese and soup. Elevated – his word not mine but I'm positive he picked it up from me or the fact that Food Network is always on. Guilty as charged!
He said "Mom, I need you to get really good bread like on Guys Grocery Games (he was talking about brioche but I knew), onions, tomatoes, harvarti, muenster, and mushrooms. Oh and we will need soup – that tomatoe basil-ee thingee." Mom said "Got it dude".
Here is the thing. If you want your kid or kids to learn to cook, you have to let them make something they love but challenge them to take it to the next level. And boy did he ever! I did help with the mise en place pharmacieinde.com. My hubby bought me the best knives I have ever EVER used. But they could slice his little finger off with absolutely no effort and then we would be enjoying our grilled cheese at the ER – no fun!
BEST GIFT EVER – To the chef in your life. Even better if you get it for yourself
I cannot be without my German knives when cooking. There aren't cheap but I bought the cheaper, Groupon ones for years and they never lasted.  If you are interested in buying the last knife brand you will ever buy, let me introduce you to my favorite. If you buy through the link provided, my site gets a tiny commission but there is NO additional cost to you.
That being said, this is one knife you have to try! It makes me feel like a complete bad ass in the kitchen and I'm dangerous. Like I needed any help.

Wusthof Chef's Classic Knife
The image above will allow you to read about the knife, the reviews (so you know Im not crazy) and see the other Wusthof knives and products.
If you order the knife, please let me know and tell me about your experience. I would love to thank you and give you a big SOLTO shout out! Don't forget a picture!
The cook on the sammy
I like my grilled cheese darker than my son likes his. I love the texture it gives and the smokiness. You can see the difference when looking at my photos in the last step below.
Tip: Add to or take away sammy components. This should be your DREAM grilled cheese. This is ours and we hope you enjoy. But I'm dying to hear what your dream is. Leave a comment so we can chat about all things grilled cheese. Better yet, what are your kids making tonight?
Do you social? Me too!
 Make this, take a photo, and on da GRAM – #SOLTOcrew AND don't forget to @sanityorlackthereof | Find more from SOLTO on Pinterest and join my crazy wack cookery community on Facebook. Glad you came to party!
Steps
For the Soup:

Pour the soup into a saucepan over medium heat. Add the basil pesto, italian seasoning, and garlic. Stir. Cover and move on to the sammies.

For the grilled cheese:

Lay the bread butter side down on a large griddle over medium high heat. If you do not have a griddle or flat pan, you may have to grill your sammies in batches. Now to assemble.

After a few minutes, carefully lift up an edge of the sammie to check the color on the other side. Estimate about 4 minutes per side depending on the thickness of your bread. Check it, dont forget it!

Flipping beast takes some effort. One hand and a spatula should do it. Maybe have someone for moral support.

Dont foget to stir the soup occasionally but keep it covered.