Ingredients
1/2 cup softened

coconut oil

organic refined preferred

1 T (optional)

coconut sugar

1.4 cup processed

walnuts

20-24 moist (hydrate for 20 mins in water)

dates

depending on size

1/4 cup plus as needed

water

1 9oz bag melted

dairy free chocolate morsels

Enjoy Life is my jam brand
Directions
Need a candy bar fix to satisfy your chocolate and/or caramel craving?? (I know my husband sure needs saving from his addiction. His idea is lifting weights for an hour and then running to the gas station all under the pretense of getting gas – only to find candy wrappers in the driver's side door. Right?!?! Way to hide the crime – sorry babe)
You won't give in to temptation while you are out and about if you have these at home waiting for you and calling your name. To top it off, after having one you won't feel the guilt or the heaviness associated with its demon counterpart. =P
No need to tell anyone they are paleo until after they tell you that you are a goddess of all things yummy!
Whether you are fooling your office or your family, the SOLTO FixxStixs are sure to impress!
They do require a few steps that your traditional sweets don't since sometimes cold setting is required to make the stixxs come together.
Think about it as 3-step process and plan to do something else while you have this going on.
Kill two birds mentality. My husband always asks me "why are you so obsessed with killing all the birds?". Those pesky birds are the enemy of getting stuff done in order to get to the really good stuff in life. Am i right?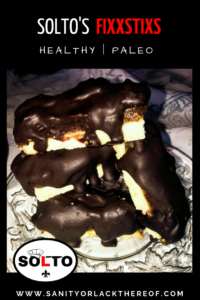 3 part process: 1) The Cookie Floor 2) The Ooeeyy Gooeeyy and 3) Chocolate Topping
All 3 steps are detailed in the recipe instructions. Just a little fyi =P
So decide what else you want to get done and lets get this party started!
Need a really cool weapon to complete this task? I GOT YOU! The following links will allow you to purchase these cool tools that currently reside in my own kitchen. I thank each one every day for keeping me sane.
| | | |
| --- | --- | --- |
| Instant Pot 8QT | Instant Pot 6QT | Instant Pot 6QT |
Do you social? Me too!
 Make this, take a photo, and on da GRAM – #SOLTOcrew AND don't forget to @sanityorlackthereof | Find more from SOLTO on Pinterest and join my crazy wack cookery crew on Facebook. Glad you came to party!
Is it time for chocolate and caramelleee goodness yet?????
Steps
Cookie Floor

Preheat oven to 365F. Mix the first 5 ingredients together until a ball of dough forms. If its a bit to dry and crumbly try adding a teaspoon more of melted coconut oil at a time. If too wet, add 1 teaspoon of coconut flour until the dough isn't wet looking. Results vary due to the brand of coconut and almond flour in some cases.

Spread dough into a thin layer on a parchment paper lined baking sheer. Form a rectangle. The dough should be thick enough to provided a stable base for the cookie. 1/4 - 1/2 inch will do just fine. Bake for 15 minutes. Pull out and set aside to cool.

GooeeeNess Layer

After dates have soaked for 15-20 minutes, strain out the water. Add to a small food processor or NutriBullet (i prefer this device). Add the water and process until sticky yet smoother than you started with. It needs to be spreadable. Spread this over the cookie floor and place in freezer to chill for 30 minutes.

Double Boil

If you do not have an actual double boiler - don't worry I do not either - place a pot of water over a medium high burner and then place a glass heat safe bowl on top of the pot. You should try this before beginning so your weapons fit and are in place. Pour bag of chips into glass bowl. After the chocolate begins to melt, turn heat down to medium low and allow chocolate chips to melt down completely. Stir.

Pull pan out of freezer and lift the overhanging sides of the parchment paper off of the tray and place on counter or board for cutting. Using a seriously sharp knife, cut bars out of rectangle. About 5-6 inches long by 1- 1.5 inches wide. The size of my middle finger. I mean that in the nicest way possible!

Turn the burner under the double boiler off. I use my finger for this step but you can try coating them a different way. I just find this method coats them and allows for the drippings to cool like in the recipe images. One by one, take each FixxStix and invert them upside down into the melted chocolate and then place each on a new sheet of parchment paper on top of a tray (or anything that will hold them and go easily back into the freezer for the last step). Chill in freezer for 1 hour, preferably 2 before pigging out. Enjoy!