Ingredients
2T

avocado oil

sub grapeseed or EVOO

1 pack of 6, diced

chicken apple sausage

1.5 cups

unsweetened coconut milk

sub almond

1 cup, optional

mexican shredded cheese blend

6 cleaned and diced

mixed sweet peppers

2 cups chopped

spinach

optional, sub cilantro or other green of choice

1T minced

garlic

or garlic powder

a pinch

red pepper flakes

2 if you love spicy

3 grinder spins

himalayan sea salt

1t

lemon pepper

find one without sugar or salt

1/2 cup tightly packed

cilantro

2 stalks chopped

green onion

or chives

8 small colorful

diced tomatoes
Directions
Breakfast bakes or casseroles are a damn dream come true! Read this carefully – if you are on Whole 30, breakfast bakes need to be a part of your preplanning and make ahead arsenal to keep you happy and your tummy content. Making dishes like this one makes whole 30 a breeze.
I make breakfast bakes, crustless quiches, casseroles, frittatas, and muffins all the time for my family. Reasons why you ask? Dont mind if I do =P
My Sanity –
Once I get the chopping and dicing done and mise en place is squared away, I put it all together in layers, throw its nasty butt in the oven, set it and do what I gots to do. Whether its other meal prep, working out, blogging, or playing with my son – i do it!
When its done, I have a meal for a crowd (think family in town or the holidays) OR we have breakfast that morning and then I wrap them individually for easy weekdays.
Pie Pans??

Absolutely. Divide this into two pie pans (crust or crustless), same time, same temperature.
Muffin tins??

Them too! Reduce time to 30 mins but depending on your oven keep an eye on them and use the cake test method mentioned in the instructions below to determine appropriate doneness. So subjective anyway.
If you want to do EZ Fancy for your breakfast attendees, you can easily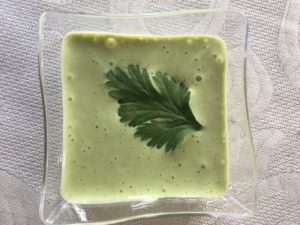 make SOLTO's Cilantro Lime Crema to drizzle over and possibly swirl on the plate. Oh la la!
Special Note: I made two variations of this recipe two weekends in a row. Damn overachievers! Nope, like that it gives this momma a break once the chopping is complete. The main image for this recipe is one with whole30 compliant cubed breakfast potatoes (frozen food in Walmart) on the bottom without spinach, which I definitely missed. I used cilantro on this one. The images down in the instructions are with the peppers, onions, spinach, etc.
Honestly, I wasn't trying to confuse you but just show the dish's versatility. Think of it as a DUMP RECIPE. Turn out the fridge for the veggies you have (like ratatouille), get dicing and sauteing and make it up as you go a long. OR follow mine.
No matter, just enjoy your creation and pat yourself on the back and take all the credit you want. I wont tell! shhhhhhhh = )
Please share your experience with me. Do you have an awesome breakfast recipe or variation to share??
Do you social? 
Me too! Make this, take a photo, and on da GRAM – #SOLTOcrew AND don't forget to @sanityorlackthereof | Find more from SOLTO on Pinterest and join my crazy wack cookery community on Facebook. Glad you came to party!
Until we eat again…
Steps
Mise en place

Especially with recipes like this that take some chopping, getting your supplies out and ingredients chopped is incredibly important and a sanity saver. So get chopping! The onions and sweet peppers can be placed in the same bowl.

Set oven to 385F.

Da eggz

Heat a large skillet on medium high. Add oil to warm skillet. After oil heats up, add onions and sweet peppers. Saute for 5 minutes. Add in diced sausage (the sausage is already cooked so you are just looking to get some sear and color on them). Saute for 3 more minutes. Turn off heat.

Cover that layer with the chopped spinach or your substitute greenery (see suggestions in write up above). IF you are adding cheese of choice, add it over the spinach. Add green onions and cilantro IF using. Then pour the egg mixture on top ensuring that it is evenly spread around the dish. If anything is poking up through, push it down with a utensil to avoid burning in the oven.