Ingredients
juice of 2 (separated)

lime

zest too but optional

1 - 1.5lbs diced

chicken breasts or thighs

1/2 cup chopped

parsley

or cilantro

1 cup bag of shredded

carrots

1 cup packed shredded

purple cabbage

your choice for topping

chopped nuts

walnuts, cashews, or almonds will do

6, seeded and diced

mixed sweet peppers

1 med head riced

Cauliflower

1 T

chinese 5 spice

more to taste

pinch of

pickled ginger

to top each
Directions
Whether it is at Bar Louie or PF Changs or Cheesecake Factory, I always get the lettuce wraps. Such a perfect menu choice when you want lots of flavor without the normal eating out bloat. Not too mention, I get to make them right at the table. So cool!
So I set out on a beautiful afternoon on the Gulf coast of Florida to create a healthy version that you can EASILY create and enjoy at home.
Today is Day 29 on my current round of Whole 3o and I couldn't be more pleased with the recipes I have created for my family and for you over the last month. My goal is to provide you with the best food and meal ideas towards your own quest for a healthy lifestyle. You do not need to be on Whole 30 to love these wraps and you won't feel deprived or hungry after you are done.
So here's some special tips and options before you set out on this recipe path.
Lettuce – but which kind?
Bibb or Boston – As pictured here, I think these are the most aesthetic. However, I recommend doubling them up since they tend to be dainty and could possibly lead the eater to give up and make a wrap salad of sorts in order to get it to their face quicker
Romaine – This provides a larger platform and a crunchier texture. Many people prefer this choice.
Iceberg – Double up this choice as well. Remember, this choice provides the least amount of nutrients.
Meat Filling
White vs. Dark Meat- The debate rages on!
White chicken meat – the meat is marinated and pan cooked in the sauce so even with this leaner choice, there is no shortage of flavor. White meat will always be a bit dryer than dark.
Dark chicken meat – this choice is forgiving as it is harder to overcook dark meat and it retains a moister, more rich flavor in this sauce.
Ground meat – throw caution to the wind and choose any ground meat – from Bison to Venison – go wild. Combine the sauce with the ground meat as if you were making meat balls. Then, cook it in a pan like you would any ground breaking it down with a spatula to your desired consistency.
Sauce | Marinade
This sauce comes together easily with minimal effort as long as you have the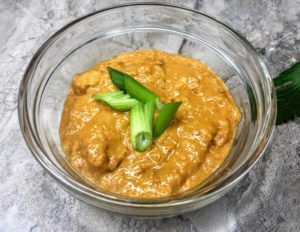 ingredients and lasts for up to 1 week in the fridge. BUT, buy store bought if it makes your life easier. I do not want you to be intimidated by recipes with a ton of ingredients. In most cases, not adding an ingredient or two wont make or break the dish. In some cases, it will.
On Whole 30? You can order sauces via Thrive Market or check your local "whole" grocery.
Rice Rice Baby!
I tried other methods for preparing cauliflower rice and while the results were OK, the process was a bit long. Simply  put, I process the cauliflower in my food processor in 2-3 batches so it doesn't get pulverized in the process of making sure every floret is riced. Then I spread it on a parchment lined baking sheet (preferably with sides). I season it with S&P and 5 Spice (for this recipe) and pop its little hiney into the oven for 25 minutes at 400F.  To quote porky pig:
That's all folks!

No Cauliflower rice for you?  
No sweat! Try this with boil in the bags – quinoa, brown rice, and jasmine top my list of easy as sin sides!
Click on the images below to whisked away to choose your weapons and say goodbye to the things that take too long in the kitchen. Bye bye time killers. Also, make sure to check out a comprehensive list of the coolest weapons and gifts for the crazy foodie in your life by visiting the MustHaves page.
Do you social? Me too!
Make this, take a photo, and on da GRAM – #SOLTOcrew AND don't forget to @sanityorlackthereof | Find more from SOLTO on Pinterest and join my crazy wack cookery crew on Facebook. Glad you came to party!
Don't forget to comment below, add your own image, and add this to your meal plan by subscribing to SOLTO.
Talk soon!
Steps
Mise en Place & Sauce

Different recipe, same first step. Read and read again and THEN get out and set up everything you need so your ingredients and weapons are at the ready. Set oven to Bake at 400F. Now make your sauce in your food processor.

Combine first 7 ingredients and blend until smooth. Set aside.

Cauliflower Rice

Clean and cut the cauliflower down into florets. Use your hands I wont tell! Then pulse on "thick" setting in batches. Lay out on lined baking sheet. Sprinkle with 5 spice and salt and pepper to taste. Put in oven once you are ready to put the veggies and chicken in pans. (After next step)

Cut up thawed chicken. Put in bowl and cover with 3/4 of your sauce, leaving the rest for your guests to top their lettuce wraps if the want.

Now, cut all of your veggies.

Between stirs, plate by laying out 2 lettuce cups on each plate. You may want to double up to provide more support for the filling. Set the sauce out with a spoon on the table. Go back and stir your chicken. Add a splash of coconut aminos over the chicken (optional but nommy).

When the cauliflower timer goes off. Turn everything to off and begin building your wraps. In order from bottom up: Lettuce. Onion/cabbage/pepper mix. Chicken. More pepper mix. Nuts. Pickled ginger and green onions if using. Healthy scoop of caulirice or substitute on the side. WOWZERS!