Ingredients
1/2 of 1 large diced

red onions

any onion will do

1 lb

ground turkey

or hamburger or chicken

1.5 T

chili garlic sauce

taste for desired heat

1/4 cup

coconut aminos

or soy sauce

1 whole small cubed

pineapple

1 bag

frozen green beans

cook according to instructions or use fresh

sprinkle slivered

almonds

optional

2 stems diced

green onion

option

top each with slices of

pickled ginger

optional
Directions
This pineapple dish came to life quite by accident. First, pineapples were on sale for $.99 so naturally, a few went into the cart.
This week has been challenging to say the least. Late Sunday night, my son was diagnosed with Influenza A and has been averaging temps in the 102 – 104 range. Seriously! I'm into my 2nd round and 2nd week of Whole30. If it wasn't for this being my 2nd round and being predominately paleo anyway, I think I would have thrown in the towel and had a glass of wine and an entire plate of my SOLTO FixxStixs. Oh my, I shouldn't even write about those delectably sinful stixs. I'm on Day 9 so I'm going to keep marching along.
Oh yeah! I'm here to tell you about this throw together recipe. So I'm exhausted and as of 6pm last night, I had not even thawed anything.
OH WHAT TO MAKE FOR MY HUBBY THAT'S WHOLE 30 and easy as SIN!??
Keep ground whatever meat in your freezer/fridge at all times. THE END PERIOD! I knew I had the components to make an Asian tasting dish so I grabbed the bags of frozen microwave green beans in a bag (YEAH I SAID IT!) and thawed the ground turkey burger in the same little ole microwave.
Not on Whole30? Add 1/4 cup of honey or agave while simmering the dish to UP the sweet component and counter the heat. The garlic chili sauce, while compliant, does have some heat. But it is that good heat that tingles your mouth after your done while taunting your taste buds while you eat.
Also, towards the end of cooking, taste your dish. If its too spicy for your liking THEN ADD SOME PINEAPPLE juice from a compliant can of pineapple chunks to add some sweetness. Personally, I think just eating a luscious chunk of pineapple with each bite helps to counter punch that spice. Delish delish delish!
YO MY WHOLE 30ers!
Make a double batch of this and heat it up for lunch or dinner. This is the PERFECT meal for dinner on Sunday night and then divide the rest into plastic containers for GRAB-N-GO food bombs during the week!
Spoiler Alert – The
ginger rose

is from a jar of pickled ginger. My jar has sugar in the pickling brine so read your ingredients. This rose came together from 3 rounded pieces from the jar. Not hard so be patient and add to each non-Whole 30 plate or just to the serving dish.
Additional Ideas & Substitutions
Use brussel sprouts instead of green beans (sprouts may need to cook longer depending on how you like them)
Sub canned pineapple if fresh isn't available or costs too much
Don't like pineapple, try Asian or canned pear. Start with a firmer pear.
Add water chestnuts with or instead of almond slivers
Use sesame seeds (black and/or white) to garnish
Omit green onion if you are just plain crazy
Crunchy onions (like the ones on casseroles at Thanksgiving would be good textural topping – Not Whole30 but fun)
Prep time includes cutting fresh pineapple and thaw time.
Also, make sure to check out a comprehensive list of the coolest weapons and gifts for the crazy foodie in your life by visiting the MustHaves page.
Do you social? Me too!
 Make this, take a photo, and on da GRAM – #SOLTOcrew AND don't forget to @sanityorlackthereof | Find more from SOLTO on Pinterest and join my crazy wack cookery crew on Facebook. Glad you came to party!
Back to the FLU-Festival at my house. Wish me luck – I'm going in!!
Keep calm and eat on!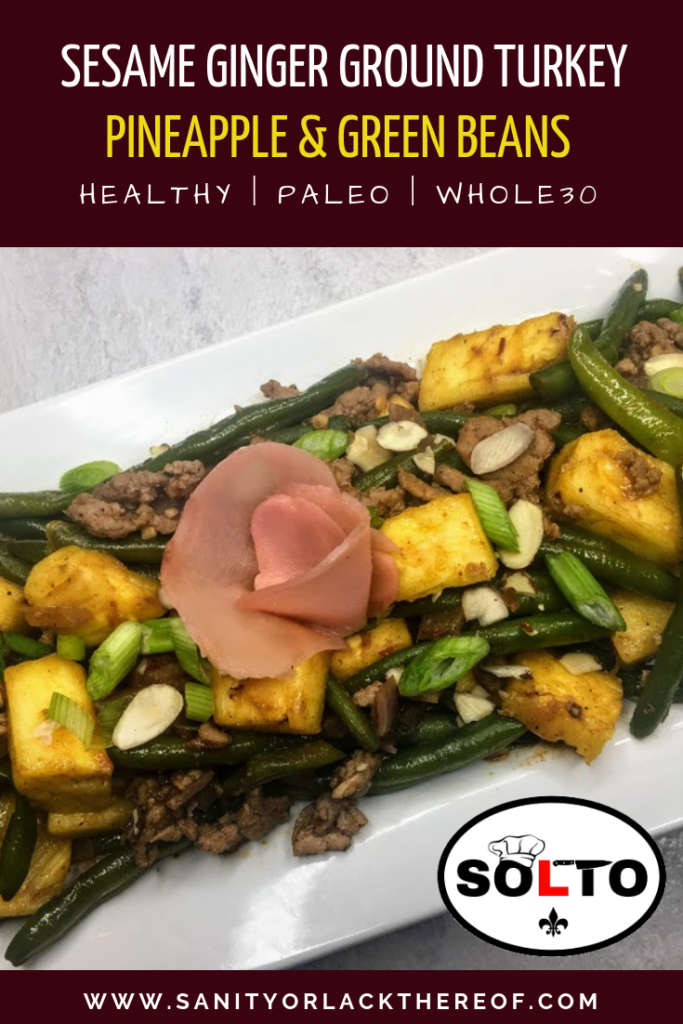 Steps
Mis en place

Read through this recipe and options in write up. Then gather all ingredients and pans. Thaw ground meat if necessary.
Dice the onion.

In large pan or wok, heat oil. Add onions. S&P and let cook down for 3-5 minutes.

While onions, cook frozen beans according to instructions in microwave. Drain bag and set aside.

During that last step, cut up fresh pineapple into small chunks. If using a can, reserve the juice for sweetening the dish in the pan before serving if you deem necessary. Taste taste taste!

Once onions are cooked down, add thawed meat and break up with wooden spoon or whateva weapon you choose. Add all liquid ingredients and spices. Stir. Add in cooked green beans and pineapple chunks. Stir to coat evenly. Add a bit more sesame and aminos if its still a bit too dry looking. Cover pan and turn heat down to medium low. Cook for 5-8 minutes. Stir.

To serve, scoop a big ole portion into a wide bowl or plate. Top with almond slivers, green onion, or anything else from the sub list. If using, take rounded pickled garlic leaves and sit them up in semi-circular ratations curling into the next until you have your desired rose. If for any reason this part give you anxiety or you start itching in odd places, immediately STOP and KNOW its good without it. Enjoy!