Ingredients
6 links

chicken apple sausage

2 T

Alchemy Chipotle Sauce

1

frozen bag of peppers and onions mix

1 T

cajun seasoning

more to taste

2 t

oregano

or italian seasoning

1 T (optional)

chipotle seasoning

1 cup or so

spinach

garnish
Directions
Shrimp. Sausage. Flavor explosion without the guilt trip.
Listen folks, it probably comes from me truly believing that soup is the PERFECT food BUT I absolutely freaking love dinner in a bowl.
Love love love DINNER IN A BOWL!
Does this recipe have to be done in a bowl? Heck no and the photos prove it. My hubby got the white bowl and my son got the plate. No, I didn't starve – I got the other plate with more shrimp. Why? Oh, this is a FUN explanation. Stay with me for a moment.
OK here's the nightly set up when dinner is going to be featured on the blog.
I make dinner and set up the light, back drop, etc. My son will take peeks while its being prepared and once I start plating, he will jump at announcing
I GET THE BLOG PLATE! HA DAD! CALLED IT!
Here's the thing. I will be a successful blogger who eventually makes enough money to make recipes during the day and if they get eaten cool, and if they don't – F it. I'm not exactly there YET so my blog recipes are for dinner. On a budget baby! And yah know something about me – I've been on a tight budget on and off so many times over the years that even when I'm working and making bank, I cannot lose that mentality of budget budget budget and "HOW MUCH DO THEY WANT FOR THAT?? DO WTF – better get on Facebook Marketplace where someone else paid retail and never used it". Truth is out!
(Olympic Digresser in progress!)
Yes, blogging plus dinner time means that dinner is an all out 3 ring flipping circus. My son wants to taste test (which l love), timing is a big pain in the ass, plating and photos means someone or everyone's plate is going to get tossed in the microwave and to top it off, Im going to be judged by my family and you. To add to the process, I learned the hard way that steaming food fresh from the oven or range makes for very foggy photos. Duh.
Plan B. Or I think to myself – my hubby doesn't mind lukewarm food so Daddy is getting the blog plate. Sorry kid, but momma is stressed and I need to get this freaking photo and eat because we are all seriously hangry.
Long story short – too late! I end up with more shrimp because the picture/blog plates are carefully assembled. There isn't too much of any one thing. DO NOT TELL my family please! They enjoy being awarded the blog plate and…
I ENJOY EATING MORE SHRIMP. SCORE!
Now that particular rant is over, lets get to it. This is SUPER EASY and quick to pull together.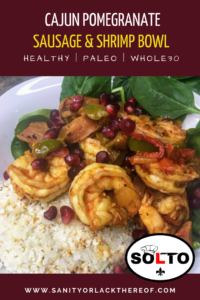 But you have to buy some "make your life easy" ingredients.
Bag o Shrimp – YES naysayers, I buy frozen large shrimp from BJs or Costco. I thaw a pound or so in a freezer bag and then set them in a bowl of cold water in the sink until 'Im ready to pull their shell and tails off. I like fresh but these are hands down the easiest of the EASY PEEL shrimp and the most flavorful aka not frozen tasting.
Apple Chicken Sausage – get 10 packs any time you find this on sale. I use it for breakfast bakes, dinner, and even cut it up and put it in a bag with a toothpick for my son's lunch. I know what you are thinking but his friends actually try to steal some EVERY TIME I pack it.
Special Protein Note: If you do not like one of these proteins, then add a lot more of the other. You can also saute a butt load of veggies IF you prefer a vegetarian option. In addition to the bag of frozen pepp
ers and onions used here, throw in a bag of another veggie blend like a Mediterranean or squash blend.
Buy a really good cajun seasoning that is not ALL salt. I highly recommend this one!


Make sure that it doesn't contain sugar or other non-compliant ingredients if you are on Whole30. If you are on Whole30, this is just what your taste buds need SMACK in the middle of your 30 day marathon. I like this recipe so much that although I am not a huge rotation fan, we definitely have some variation o
f this every 2 weeks.
Pomegranates are optional but I like the sweet pop they add to this spicy but not HOT dish. I absolutely love the taste and health benies of pomegranate BUT AIN'T NOBODY GOT TIME FOR THAT painful removing process. I buy these little 4 packs from BJ's that look ideal for lunch boxes. Hint hint.
So, are you ready? I'll shuddup. Let's roll.
Do you social? Me too!
Make this, take a photo, and on da GRAM – #SOLTOcrew AND don't forget to @sanityorlackthereof | Find more from SOLTO on Pinterest and join my crazy wack cookery crew on Facebook. Glad you came to party!
Copyright secured by Digiprove © 2019
Steps
Cauliflower Rice

Preheat oven to 410F. Wash, de-stem, and cut the cauliflower into medium florets. In 2-3 batches, pulse your food processor until it resembles rice. Spread in an even layer on a parchment lined cookie/baking sheet. Sprinkle with cajun seasoning and lemon pepper. I wouldn't add salt as there is salt in the cajun blend seasoning guaranteed!

Insert in oven and set time for 22 minutes.

Shrimp and Sausage

Clean shrimp and sprinkle with cajun and chipotle seasoning in a bowl and set aside. Dice up your sausage. I diced them on a long bias as pictured but it REALLY doesn't matter and n oone is judging your knife cuts on this show baby!

Saute time baby!

In a large skillet over medium to medium high heat, pour in 2 T of olive or avocado oil and let heat for 1 minute. Empty the frozen veg into pan, stir, and season with cajun and chipotle (optional heat). Cover. Stir occasionally to prevent the veg from burning or sticking.

After 5 minutes, add sausage (remember, this sausage is pre-cooked). Stir to incorporate and recover. After another 5 minutes turn the heat to medium low. When the timer on the over reaches 4 minutes, add the shrimp to the sausage and veggies, cover and cook until the shrimp are pink on both sides.

Plating

Line the bowl or plate with fresh spinach if using.

I use a little ramekin I stole from a Mexican restaurant to plate the rice as pictured. You fill a wide mouth ramekin with the rice, pack it in, and then flip over carefully onto the plate or bowl. It should keep its shape pretty well. Ladle heaping portion from the skillet onto the side of the rice. Garnish with the pomegranate.

Wait? Food Network isn't coming to dinner?? Then throw it all in a bowl in any order and just enjoy the hell out of this yummy tongue tingling dish.