Ingredients
7 small sliced

purple potatoes

4 medium diced

red potatoes

5 small sliced

gold potatoes

2 T in boiling water

sea salt

Dressing

sprinkle, optional

red pepper flakes

1.5 T

horseradish mustard

can use other mustards

Slaw

3/4 of

Kale Slaw Mix Bag

see notes on substitutions

Optional

1/2 cup chopped

curly parsley
Directions
This is my third and best iteration of this tricolor potato salad with kale slaw. The homemade vinaigrette isn't a drench – it's just enough to pull the salad together. So glad I waited for a better, easier version to emerge!
I know everyone is full-on Pumpkin-everything mode but this crazy chick is still grilling and cooking out.  And cold OR hot potato salad adds a hearty side dish to the outdoor festivities.
Back to the regularly scheduled program –
When I tell you that you need this NO MAYO potato salad in your life, please just trust me! Even at my heaviest, I wasn't a big fan of potato salad. Too thick, mayo-ee, and cold potatoes were just not my jam. But in all honesty, I think Mayo is where food flavor goes to die. OK, that's extreme and I do enjoy a light dusting of Whole30 homemade mayo every once in a while but stay with me peeps. This is light, tangy, and my guests and kid LOVED IT! When that happens, I know I've hit the mother load.
Try the lighter side of life baby!
OK, so What Kind of Potatoes do I Use?
You can honestly chop up any potatoes that you would like into smaller chunks/pieces. However, I was going for eating the rainbow and a colorful dish so I chose baby potatoes in gold or white, purple, and red.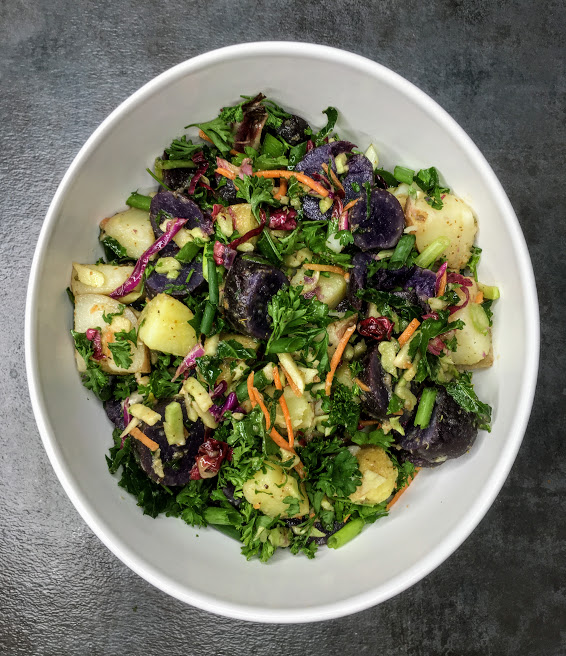 Did you know that the RED or PURPLE variation of a vegetable or fruit is the one with more ANTIOXIDANTS and these thingymajigs called anthocyanins, which battle it out for heart and brain health??? Whaaaaa? YES HONEY! The antioxidants and minerals combine to change the flesh so try red onions, purple cabbage and cauliflower whenever you can. This doesn't even scratch the surface and I am no expert. Read more…
The Crazy Bennies and Super Powers of Purple Veg and Fruits
NOW, what about the Dressing Ingredients?
This is really versatile and open to preference and interpretation. You can go directly from my instructions, tasting as you go. The combination of the horseradish mustard and seasonings are sublime.
NOTE: If you aren't on Whole30, add a tablespoon or two of Organic Maple Syrup to sweeten it up.
OR if you really love a complaint vinaigrette in the bottle or one you make at home, try adding a little at a time until it tastes divine. And always, taste taste taste and then give someone else a taste.
If you have any dressing questions, please don't hesitate to email me!
Lastly, the Kale Slaw!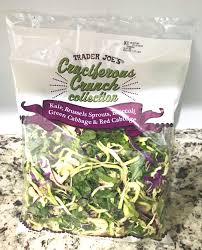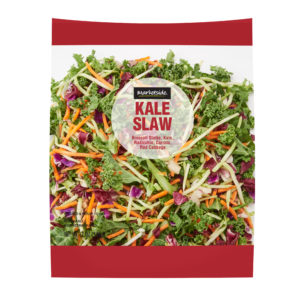 For this easy as all getup recipe, I grabbed the bagged Kale Slaw Walmart sells at some of their stores. Trader Joes also makes a variation called Cruciferous Crunch Mix which would be an amazing sub!
Special Note for Sub: If you cannot find the bag of mix, add a cup (not packed) of the following to the potatoes before the dressing:
shredded carrots

shredded purple cabbage

shredded kale (spinach would make a nice sub – but chop it finely)
Serve With Suggestions? Try this!
SOLTO Party Hard Chicken Flavor Bombs (can be made with any part of the chicken)
Need another side dish inspo? Cool, got you!
Tricolor Cauliflower Salad w/Lemon Basil Vinaigrette
I hope you enjoy this lovely light salad as much as we did. Also, it saves well in the fridge so meal prep with a passion on Sunday and take it with you with a piece of grilled lemon pepper chicken breast for lunch this week. Nom! Damn, now I'm hungry again. Where's that leftover potato salad…
Do you social? Me too!
Make this, take a photo, and on da GRAM – #SOLTOcrew AND don't forget to @sanityorlackthereof | Find more from SOLTO on Pinterest and join my crazy wack cookery crew on Facebook. Glad you came to party!
Steps
Get all of the ingredients, tools (knife and large pot for boiling), and cutting board out. Getting prepared is called Mise en Place and will greatly improve your success in the kitchen.
Chop all potatoes into pretty equal chunks. Nobody is measuring here.

Lay potatoes in the bottom of pot and cover with hot water. Turn burner to high heat and allow to come to a boil. Wait 5 - 10 minutes, testing with a fork. Once you can pierce easily with a fork, immediately take off heat and empty carefully into a colander. Run light stream of cold water over potatoes to stop the cooking process.

You can make the dressing while the potatoes are coming to a boil. Whisk all ingredients together and set aside.

Pour cooled off potatoes in large bowl and empty 3/4 bag of mix (or your own veggies - see sub notes) into bowl. Mix all gently with your hands.

Pour 1/4 dressing over salad. Mix gently. Repeat. Like shampooing. I used almost all of my dressing but not quite. I waited for the right coverage and tasted as I went along. Top with green onions and parsley if using. By all means, enjoy and tell me what you thought!!