Ingredients
1

rotisserie chicken

shredded or diced

6

mixed color baby peppers

2 stems diced

green onion

1 cup

plain greek yogurt

light

2 T

sweet chilli sauce

see photo
Directions
Whether it's for a sammich or a big ass salad for a light fare dinner, da bomb chicken salad is seriously rocking in flavor and good for the bod (thanks to my new love for plain greek yogurt). I may never use sour cream or mayo again. I know i know them there are fighting words and greek yogurt is just a fad product right?
WRONG!
This stuff is powerful. Good for your waist line and your gut. I say greek yogurt is here to stay and you should have a vat of it in your house at all times.
SOLTO Pantry/Frig Staple. Go ahead and add it to your grocery list.
I make this on Sunday or Monday and nosh on it for lunch during the week. There is one secret to my chicken salad that Im going to share with you now. But shhhhh don't tell!
SWEET CHILLI SAUCE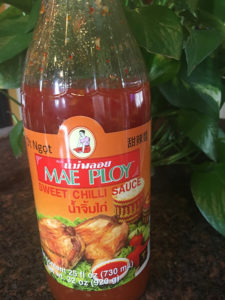 This is another SOLTO pantry staple.  It is so versatile and adds so much flavor. Any global supermarket should have about 20 different brands but I'm sure you can find in most grocery stores in the international isle but you will pay more. If you do have a global or latin/asian supermarket in a 20 mile radius, do yourself a favor and check it out. I can't speak for all of them but the produce at Fresh World and Lotte is beyond reproach and you can get meat and seafood at a fraction of the cost you have been paying. Do eeeeet!
I digress…
Sweet chilli sauce doesn't make the chicken salad taste asian but it gives the salad a unique sweetness that goes beyond the normal relish.  If you don't like your chicken salad too sweet then skip the relish and add the chilli sauce to your liking. You know what that means?!
Other variations: Add hot sauce and/or sliced grapes (see instructions)
Cook with instinct. Taste as you go and add more or less of the ingredients depending on what your tongue tell you. Plain and simple.
Rotisserie Chicken – you can either buy it or use my awesome IP Rotisserie Chicken recipe.
Serving ideas (see photos):
on whole grain crackers or toast with a slice of tomato and pepper
big heaping spoon full or two over salad of your choice and top with my Cilantro Lime Crema (a SOLTO must try)
in a bowl with slices of avocado, mango, and grapes
in a whole wheat tortilla (wrap style with arugula and light italian dressing)
Do you social? Me too!
Make this, take a photo, and on da GRAM – #SOLTOcrew AND don't forget to @sanityorlackthereof | Find more from SOLTO on Pinterest and join my crazy wack cookery crew on Facebook. Glad you came to party!
I cannot wait to hear how you served it up and how you changed the recipe according to what tastes good to you.  Shoot me a note in the comment section below and don't forget your chicken salad head shot!
Until we eat again…
Steps
| | |
| --- | --- |
| | Mise en place - it will take longer for you to get everything out and chopped then to mix but it is sooooo worth it! |
| | Set up rotisserie and large container or bowl for shredded or chopped chicken. You will be surprised how much you can get off of a whole chicken. Dont forget the underbelly. Some of the sweetest meat can be found in the chickens nooks and crannies. |
| | |
| | |
| | |