Ingredients
Basil Vinaigrette

1 cup packed

basil leaves minced

1 T (zest of 1)

lemon zest

Other ish you need

1/2 large slivered

red onions

a few stems (optional for topping)

parsley

2 stems diced (garnish)

green onion
Directions
I've been dying to do something with all 3 colors of cauliflower available to me. Thus, TriColor Cauliflower Salad was launched in my kitchen. Not only is this recipe incredibly easy to throw together,  you will look like a rock star chef because you prepared something so different and so vibrant in color and taste!
Did I mention this recipe is UBER healthy but here is the thing folks – you don't need to go proclaiming it.  It just is!
Got a friend who is clean eating or doing a round of Whole30? Make this and they will know you love them! Nothing worse than a pal that doesn't help you celebrate what you are trying to accomplish, am I right?
Cauliflower or Veggie Subsitutions
If you can't find one or more of these colors of cauliflower then go with what you can find cz-lekarna.com. The taste will still be amazing with or without purple or orange variations.  Romanesco florets would an EPIC addition. You can also use broccoli as a sub for one color or the other. If you are uncertain, feel free to email me. I'm sure I'm forgetting some killer subs so don't hesitate to ask.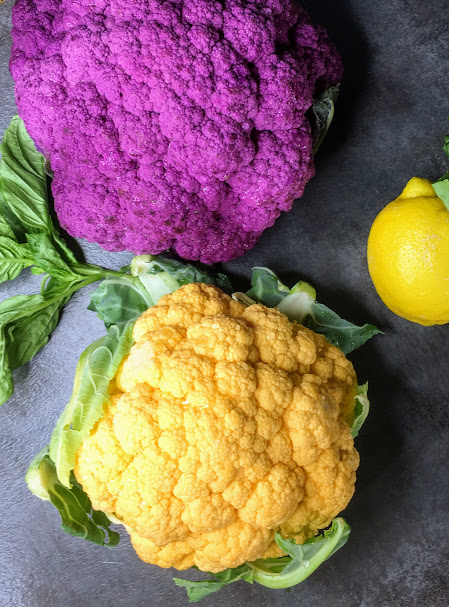 Cooking the Tricolor Cauliflower
In this recipe, I boiled the cauliflower to a slightly crunchy consistency. Then, they got it all cooled off while straining to shut down the cooking process.
Roast them? Yeah sure!
Lightly coat with oil and some Italian seasoning. Lay on a bakin
g sheet covered with parchment paper. Cook for 22 minutes at 415F. Allow to cool.
Need more OPTIONS?
Your sexy self showing up with this tricolor cauliflower dish to match you should be all you need at your next potluck or cookout. Buuuuut here are a few other delish suggestions:
Tropical Pineapple & Peach Salsa
Party Hard Chicken Flavor Bombs
Do you social? 
Me too! Make this, take a photo, and on da GRAM – #SOLTOcrew AND don't forget to @sanityorlackthereof | Find more from SOLTO on Pinterest and join my crazy wack cookery community on Facebook.
Glad you came to party!
Until we cram food down our throats at a party again…
Steps
Cauliflower

Get everything out that you will need to complete this recipe. Wash all of your veggies and add water to a large pot and set over high heat until boiling.

Cut and break up all cauliflower into small size florets. If your cauliflower was huge, you may only need 1/2 of the head for this recipe.

Once the water is boiling, carefully lower all florets into the pot. Boil for 12-15 OR until the cauliflower is tender but you don't want it to be mushy. Strain the florets and run cold water over the florets to stop the cooking process.

While the cauliflower is coming to a boil, place all of the dressing ingredients into a food processor and hit it! Scrap the sides down and process for another 30 seconds. Set aside.

In a large bowl, layer cool florets in the bottom, then a layer of red onions, then repeat until its all in the bowl. Pour half of the dressing and gently mix up to cover. Apply more dressing if it needs it and mix again. Garnish.

Serve immediately OR make ahead of time and place in fridge until you are good ready! Enjoy!