Ingredients
1 cup

diced peaches

can or fresh

1 cup

diced pineapple

can or fresh

1 cup

diced mango

can or fresh

1/2 med. size

red onions

diced very small

1/2 bunch rough chop

cilantro

optional but highly recommended

juice of 2 plus zest of

lime

more to taste

2 finely diced

mixed sweet peppers

orange, yellow, or red mini peppers

1 deseeded and stemmed finely chopped

jalapeno

optional
Directions
This is seriously the best non-tomato based salsa EVER! In fact, this is quickly taking the lead and I pride myself on being an astute connoisseur of salsa. Tropical salsa is where it is at this summer and I'M EXCITED!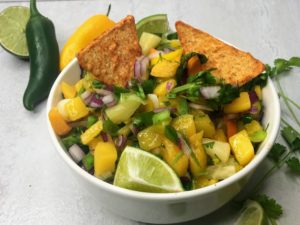 When I make this for friends and family, I always get these baffled looks like I just presented the antidote for the poison they ingested before arriving. YES, its completely Whole30 and easy as sin to mix up.
Nothing ushers in warm weather like this beautiful condiment.  Serve with chips or over top grilled chicken, fish or tacos.
Controversial Canned vs. Fresh Fruit – here's the deal.
Sure, you can dice fresh fruit. Especially if you have the time and access to this fruit. However, if you grab some Whole30 compliant cans, you are gonna save some time and effort.
Is canned fruit compliant. Not if its canned in syrup and sugar. You want it canned in 100% of its
own juices and water. I also found compliant fruit cups for my son's lunch – use these too in a back up situation.
Next, DRAIN THE FRUIT AND RINSE IT! I honestly think this is the key to allowing the fruit to welcome the other flavors, specifically the lime and cilantro with welcome arms. It tastes fresher too! OH just try the thing infofurmanner.de!
Nothing complements this salsa like one hell of a unique, wholesome Guac! That recipe is coming soon but here is a sneak peak (right). I will also tell you that the secret of this particularly colorful guacamole was a new addition – purple cabbage! Stay tuned.
For AIP, omit the peppers and you are good to go.
Do you social? Me too!
Make this, take a photo, and on da GRAM – #SOLTOcrew AND don't forget to @sanityorlackthereof | Find more from SOLTO on Pinterest and join my crazy wack cookery crew on Facebook. Glad you came to party!
Steps
If you are dicing all fresh fruit, get going. As you finish dicing, add to a bowl. If you are using canned, drain all cans and dump fruit into a strainer. Run cool water over fruit and let sit to drain. This removes the film from the water its been sitting and will brighten up the taste of the fruit. Chop the rest of your ingredients and all to the bowl.

Zest limes and all to bowl.

Here's a secret. Microwave limes for NO MORE than 10 seconds. You will get way more juice now that it is heated a bit. Slice in half and squeeze over bowl. Mix. Squeeze the second lime.

Now the hard part - DEVOUR!